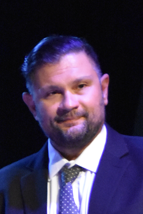 Mr Denis Coldham
Board Chair
College Board
The most important role of our College Board is to establish a vision for our College that reflects the aspirations and needs of the community. Other responsibilities include:
Endorsing the Southern River College Delivery and Performance Agreement
 Endorsing and reviewing the College Budget and Business Plan
Monitoring the College performance
Developing processes to review the satisfaction level of parents, staff and students with the results reported in the annual college report
Endorsing the annual college report
Assisting in the selection of the Principal when a vacancy arises
Current Board Members
Denis Coldham – Board Chair
Heath Dullard – Principal
Brian Hand – Manager Corporate Services
Sharon Harry – Deputy Principal
Kim Prescott-Brown – Staff Member
John Townley – Staff Member
Susan Clifford – P & C President
Christine Claassens – Parent
Julie Holden – Parent
Mark South – Community Member
Emma Whitty – Community Member
Dylan Franklin – Community Member
Jaishree Charan – Student
Maddison Clark – Student
Elected members include parents, staff and members of the community.
Please direct any queries to Julie Hughes in our Front Administration Office.